StudioCanal has announced the latest edition to their prestigious Vintage Classics Collection – the comedy crime caper The Wrong Arm of the Law starring the legendary Peter Sellers. Also starring Lionel Jeffries, Bernard Cribbins, Nanette Newman, John Le Mesurier, Davy Kaye, Irene Brown and Arthur Mullard, The Wrong Arm of the Law has been fully restored, and is available on Blu-ray & Digital for the first time from 2nd May.
Directed by Cliff Owen and scripted by the incomparable British comedy writers Ray Galton and Alan Simpson (Hancock's Half Hour, Steptoe and Son) with John Antrobus (The Bed Sitting Room), The Wrong Arm of the Law brings together a Who's Who of familiar faces from British film and television of the 60s and 70s.
In London, a group of Australian gangsters disguised as "Bobbies", led by Jack Coombes (Bill Kerr), are diverting the ill-gotten gains of the local criminal gangs. Gang leader "Pearly" Gates (Sellers), who operates from the cover of a French couturier, finds his takings severely cut. Initially he blames rival crook "Nervous" O'Toole (Bernard Cribbins) but when it emerges that they are both being scammed by the same gang, they form an unlikely alliance with Scotland Yard Police Inspector – "Nosey" Parker (Lionel Jeffries) – to eliminate the so-called "I.P.O. mob" (I.P.O. = Impersonating a Police Officer) and return things to "normal".
Nanette Newman provides the love interest, John Le Mesurier plays a senior policeman, and a young Michael Caine has a small and uncredited role as a young PC.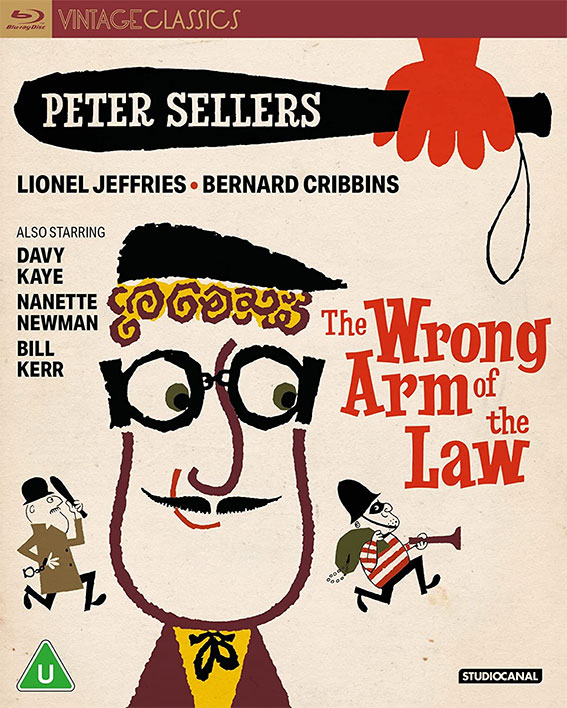 The Wrong Arm of the Law will be released in the UK on Blu-ray and Digital platforms on 2 May 2022 by StudioCanal as part of its Vintage Classics collection at a yet-to-be-confirmed RRP.
BLU-RAY SPECIAL FEATURES: