Featuring a powerhouse performance from Marlon Brando in his first feature film, The Men (1950) is a poignant reflection on the impact of war and life-changing injury, as well as the relationships that nourish the wounded as they fight their hardest battle yet. Written by Carl Foreman (High Noon) and directed by Fred Zinnemann (High Noon, From Here To Eternity), this landmark examination of masculinity and disability is presented on Blu-ray for the first time in the UK from the BFI in a Dual Format Edition. Extras include a newly recorded audio commentary and an archival audio interview with writer Carl Foreman recorded in 1969.
Playing the war veteran Ken Wilocek, who has been paralysed from the waist down, Marlon Brando is backed by a stellar supporting cast, including Teresa Wright (Shadow of a Doubt), Everett Sloane (Citizen Kane) and Jack Webb (Pete Kelly's Blues).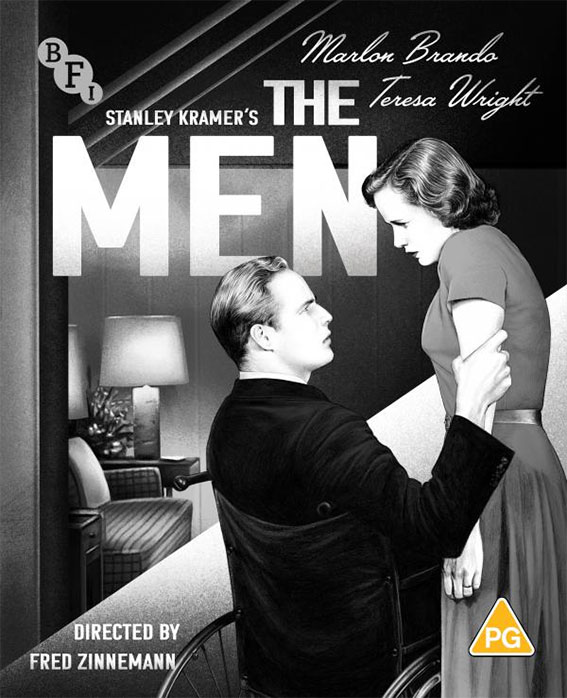 The Men will be released in the UK as a Dual Format Edition (Blu-ray & DVD) by the BFI on 16 May 2022 at the RRP of £19.99.
DUAL FORMAT FEATURES:
Presented in High Definition and Standard Definition
Newly recorded audio commentary by filmmaker and film historian Jim Hemphill

Return to Action 

(1947, 19 mins): bricklayers, lawyers, teachers – disabled men and women are encouraged to retrain for new jobs in this short film produced on behalf of the Ministry of Labour

The Undefeated 

(1950, 35 mins): released in the same month as The Men, Paul Dickson's film charts the progress of a disabled ex-glider pilot through the rehabilitation schemes organised by the Ministry of Pensions
Interview with Carl Foreman (1969, 82 mins, audio only): an in-depth interview with the award-winning screenwriter recorded at the National Film Theatre
Original trailer
Stills gallery
Reversible sleeve featuring original artwork and a newly commissioned design by Jennifer Dionisio
First pressing only: Illustrated booklet with new essays by Philip Kemp, Victoria Millington and Scott Harrison; an archival essay from Sight and Sound, notes on the special features and credits