In June, StudioCanal will present the brand-new restorations of two classics from legendary director Enzo G. Castellari (The Inglorious Bastards) – the stunning Poliziotteschi crime thriller High Crime [La polizia incrimina la legge assolve] (1973), starring Franco Nero (Django) and said to have been inspired by Bullitt; and iconic Spaghetti Western Kill Them All and Come Back Alone [Ammazzali tutti e torna solo] (1968), starring Chuck Connors (Branded). And a new release of the action thriller Extreme Prejudice starring Nick Nolte (48 Hours) and Powers Boothe (Southern Comfort), directed by Walter Hill (The Warriors). All three will be available to buy on Blu-ray for the first time and on DVD and Digital from 6th June 2022.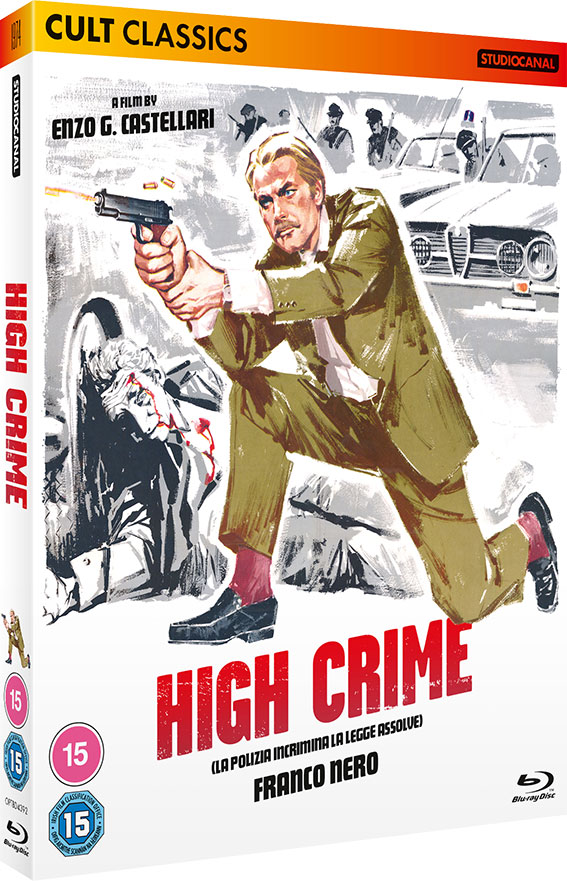 HIGH CRIME [LA POLIZIA INCRIMINA LA LEGGE ASSOLVE] (1973)
In High Crime, Vice-Commissioner Belli (Franco Nero), the assistant chief inspector in Genoa, is investigating a series of crimes committed by a drug-running gang. He approaches the apparently reformed old-fashioned gangster Cafiero (Fernando Rey) for information on the gang, not knowing that Cafiero plans to take care of them himself. When Belli's boss is murdered, he takes over as Commissioner and fights on, hoping for a chance to avenge his boss and take down the underworld organisation.
SPECIAL FEATURES:
A Criminal Conversation – Enzo G. Castellari Remembers High Crime
The Scene of the Crime – An Interview with Roberto Girometti
High and Dry – The Stuntwork of Massimo Vanni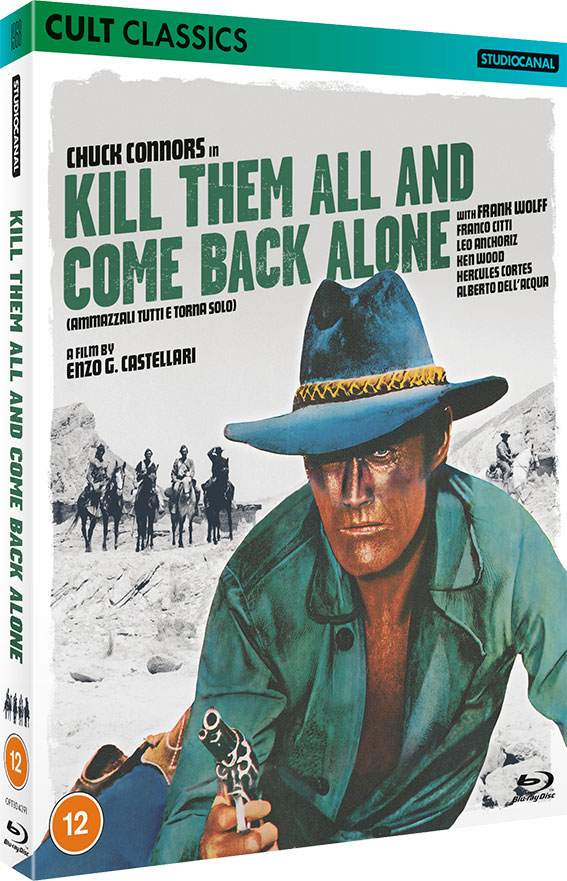 KILL THEM ALL AND COME BACK ALONE [AMMAZZALI TUTTI E TORNA SOLO] (1968)
A bloodthirsty Civil War tale set in 1864, Kill Them All and Come Back Alone sees mercenary Clyde McKay (Chuck Connors) leading a squad of mercenaries on a dangerous Confederate mission: to infiltrate and raid a Unionist army fortress where a million dollars in gold has been stowed away in boxes of dynamite. A single bullet could send the whole treasure sky high but for these renegades nothing is impossible. Only madmen could pull off such a job!
SPECIAL FEATURES:
Audio commentary with filmmaker and fan Alex Cox

Shoot to Kill, Aim to Thrill – An Interview with Enzo G. Castellari
Shoot-Outs in the Old Spaghetti West – Romolo Guerrieri on a Family of Filmmaking
Italy's Cult Auteur of Action Cinem – A Critical Retrospective of Enzo G. Castellari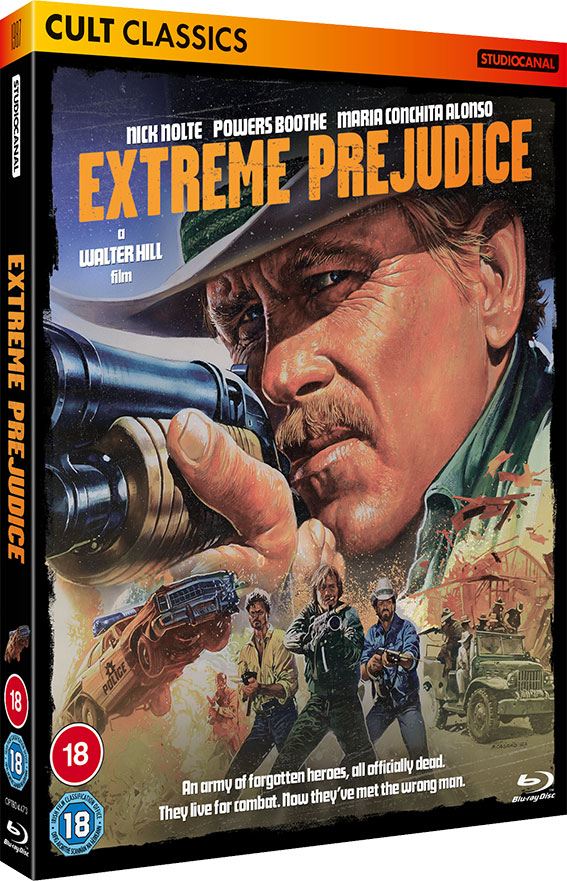 EXTREME PREJUDICE (1987)
Neo-Western action thriller Extreme Prejudice sees tough Texas Ranger Jack Benteen (Nick Nolte) fighting to bring down his childhood friend Cash Bailey (Boothe), now a ruthless drug baron operating across the Mexican border. Jack is recruited by the CIA to terminate Cash with extreme prejudice, but must also reckon with a clandestine army of veterans officially killed-in-action but now on a top-secret assignment in pursuit of the narcotics kingpin, leading to an epic and intensely violent showdown. The film also features familiar faces Powers Boothe, Michael Ironside (Scanners), Maria Conchita Alonso (Predator), Rip Torn (The Man Who Fell to Earth) and Clancy Brown (The Shawshank Rdemption).
SPECIAL FEATURES:
Audio Commentary with Film Historians C. Courtney Joyner and Henry Parke

Isolated Score Selections with Audio Interview from Music Historian John Takis

The Major's Agenda – An Interview with Actor Michael Ironside
The War Within – An Interview with Actor Clancy Brown
Capturing The Chaos – An Interview with Director Of Photography Matthew F. Leonetti

Original Trailers

Vintage EPK

Stills Gallery