On 19 September, Indicator follows its acclaimed series of Columbia Noir box sets with the first in a new series dedicated to the noir output of another major Hollywood studio – Universal Pictures.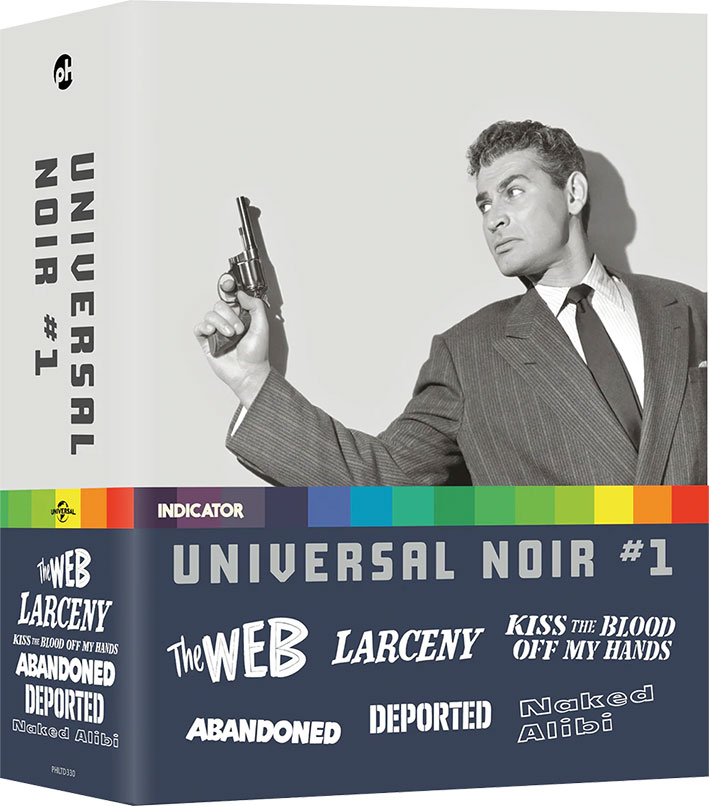 UNIVERSAL NOIR #1 | Limited Edition Blu-ray | 19 September 2022 | £49.99
The Web (Michael Gordon, 1947)
Larceny (George Sherman, 1948)
Kiss the Blood Off My Hands (Norman Foster, 1948)
Abandoned (Joseph M Newman, 1949)
Deported (Robert Siodmak, 1950)
Naked Alibi (Jerry Hopper, 1954)
Starring such high-profile talents as Burt Lancaster, Joan Fontaine, Shelley Winters, Dan Duryea, Vincent Price, Edmond O'Brien, Sterling Hayden, Gloria Grahame and Jeff Chandler, the six films in this volume feature embezzlement and murder (The Web), confidence tricksters (Larceny), lovers on the lam (Kiss the Blood Off My Hands), an adoption racket (Abandoned), transatlantic criminals (Deported), and police brutality (Naked Alibi). 
This stunning collection marks the UK Blu-ray premiere of all six films, and also features an array of fascinating contextualising extras, including newly recorded commentaries for each film, critical appreciations, archival short films, and a 120-page book. Strictly limited to 6,000 numbered units.
INDICATOR LIMITED EDITION BLU-RAY BOX SET FEATURES:
High Definition presentations of The Web, Larceny, Kiss the Blood Off My Hands, Abandoned, Deported and Naked Alibi
Original mono audio
Audio commentary with film historian David Del Valle on The Web (2022)
Audio commentary with academic and curator Eloise Ross on Larceny (2022)
Audio commentary with film historians Alexandra Heller-Nicholas and Josh Nelson on Kiss the Blood Off My Hands(2022)
Audio commentary with writers and film experts Barry Forshaw and Kim Newman on Abandoned (2022)
Audio commentary with filmmaker and film scholar Daniel Kremer on Deported (2022)
Audio commentary with film historian Nathaniel Thompson on Naked Alibi (2022)
The John Player Lecture with Joan Fontaine (1978): archival audio recording of the star of Kiss the Blood Off My Hands in conversation with film critic Martin Shawcross at London's National Film Theatre
Archival Interview with Victoria Price (2018): the daughter of Vincent Price in conversation with the Film Noir Foundation's Alan K Rode following a screening of The Web at the Arthur Lyons Film Noir Festival
Lucy Bolton on Gloria Grahame (2022): the academic discusses one of the great femme fatales of film noir
Christina Newland on Robert Siodmak (2022): the critic and writer looks at the Deported director's extensive work in film noir
Nick Pinkerton on Dan Duryea (2022): the author and critic assesses the life and career of the big-screen tough guy
Lux Radio Theatre: 'The Web' (1947): radio adaptation featuring Ella Raines, Edmond O'Brien and Vincent Price reprising their roles from the film
United Action Means Victory (1939): documentary short about the 1938-39 General Motors strike, with narration written by Kiss the Blood Off My Hands screenwriter Ben Maddow
Men of the Lightship (1941): British World War II documentary short, co-written by Kiss the Blood Off My Handsscreenwriter Hugh Gray and narrated by Kiss the Blood Off My Hands actor Robert Newton
Skirmish on the Home Front (1944): WWII propaganda short starring film noir mainstays Alan Ladd and William Bendix
Easy to Get (1947): documentary short directed by Abandoned filmmaker Joseph M Newman as part of the US Army's 'Easy to Get' campaign on venereal disease
Theatrical trailer for Kiss the Blood Off My Hands
Image galleries: publicity and promotional materials
New and improved English subtitles for the deaf and hard of hearing
Limited edition exclusive 120-page book with new essays by Iris Veysey, Jill Blake, Karen Hannsberry, Sabina Stent, Sergio Angelini and Walter Chaw, extensive archival articles and interviews, new writing on the various short films, and film credits
UK premieres on Blu-ray
Limited edition box set of 6,000 numbered units