An evil and enigmatic power throws a family into turmoil in Lindsey Vickers' much sought-after cult horror. An unsettling journey into the world of the supernatural guaranteed to give you sleepless nights, the long-lost chiller The Appointment is at last available on Blu-ray from BFI Flipside, sourced from the best materials yet discovered. Among the usual raft of fantastic extras is a new audio commentary by the director and newly filmed interviews including with Lindsey Vickers and actor Jane Merrow. Other extras include an interview with assistant director Gregory Dark, Lindsey Vickers' 1978 film The Lake (including newly recorded audio commentary) and extensive galleries featuring rare production material.
When suburban father Ian (Edward Woodward, The Wicker Man) is unable to attend his daughter's violin recital, he and his wife Dianna (Jane Merrow, The Lion in Winter) are troubled by prophetic nightmares that seem to foresee a looming tragedy. Are dark forces about to be unleashed upon their comfortable life?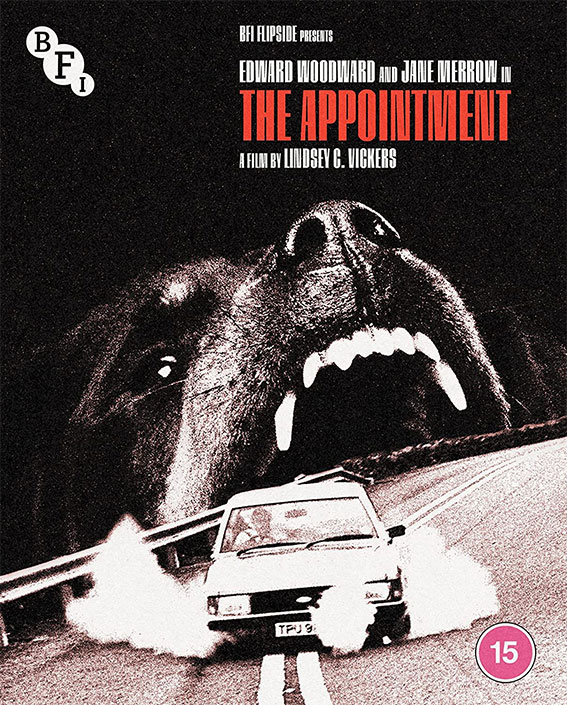 The Appointment will be released as part of the BFI's Flipside strand on Blu-ray, iTunes and Amazon Prime on 11 July 2022. The Blu-ray will retail at £19.99.
BLU-RAY FEATURES:
Presented on Blu-ray in Standard Definition
Newly recorded audio commentary by director Lindsey Vickers

Vickers on Vickers 

(2021, 41 mins): the director looks back on his life and career

Another Outing 

(2021, 16 mins): Jane Merrow recalls co-starring in The Appointment

Appointments Shared 

(2022, 7 mins): Lindsey and Jan Vickers remember the making of the 'haunted film'

 

Framing The Appointment 

(2022, 19 mins): Lindsey Vickers recalls making the film

Remembering The Appointment 

(2022, 10 mins): assistant director Gregory Dark shares his recollections of the film

The Lake 

(1978, 33 mins): Lindsey Vickers' eerie short finds young lovers choosing to picnic at a spot haunted by echoes of a violent event

Newly recorded audio commentary on The Lake by Lindsey Vickers

Splashing Around 

(2020, 18 mins): actor Julie Peasgood on making The Lake
Galleries featuring annotated scripts, storyboards, images and production materials
Newly commissioned sleeve art by Matt Needle
First pressing only: Illustrated booklet with new writing by Lindsey Vickers including a message about this release, Vic Pratt and William Fowler; biographies of Edward Woodward and Jane Merrow by Jon Dear, notes on the special features and credits