Following its release in cinemas by BFI Distribution on 3 June, Pickpocket (1959), one of the most admired, intriguing and influential films by the great French minimalist director Robert Bresson, comes to BFI Blu-ray in July. Two further Bresson films, The Triail of Joan of Arc (1962) and L'Argent (1983) will be released on Blu-ray on 8 August. These releases follow June's BFI Southbank season, Of Sin and Salvation: The Cinema of Robert Bresson. Pickpocket extras include a 1971 audio In Conversation with the director, a newly filmed interview with director Paul Schrader and complementary archival films.
Pickpocket sees resolute drifter Michel spends his days learning the art of pickpocketing and targeting the unsuspecting citizens of 1950s Paris. After his inevitable arrest (and almost immediate release), Michel reflects on the morality of crime, developing a vague theory that exceptional individuals are above the law. Lost in another world, he rejects his friends in favour of a life of crime and is seemingly set on finding his place in the world by engineering a head-on collision with society.
Pickpocket is a favourite of contemporary directors including Werner Herzog, Lynne Ramsay and Richard Linklater, and heavily influenced Paul Schrader and Martin Scorsese's Taxi Driver.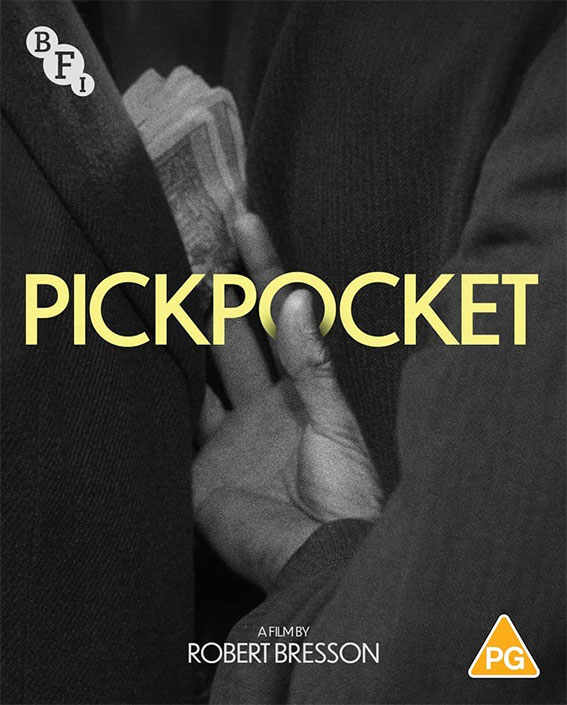 Pickpocket will be released on UK Blu-ray by the BFI on 11 July 2022 at the RRP of £19.99.
BLU-RAY SPECIAL FEATURES:
Robert Bresson Q&A (1971, audio only, 47 mins): the director in conversation with John Russell Taylor, recorded on stage at the NFT during the 15th London Film Festival
Paul Schrader on Pickpocket (2022, 11 mins): Schrader discusses his relationship with Bresson's film and how it has influenced him

The Models of Pickpocket 

(2003, 52 mins): Babette Mangolte's documentary tracks down Pickpocket's performers to discuss their experiences of working with Bresson
Archive shorts: Thefts From Handbags (1961, 1 min): British television spot warning women to watch out for thieves; Snatch of the Day (1975, 1 min): John Krish's sporty public information film on the tricks of the pickpocketing trade; Four Men in Prison (1950, 41 mins): controversial drama-documentary from the Crown Film Unit using real-life prison situations to address the purpose of incarceration
Original theatrical trailer
Reissue trailer (2022)
First pressing only: Illustrated booklet featuring an essay by Adrian Martin, a biography of Robert Bresson by Michael Brooke, credits and notes on the special features