Get ready for a second helping of Raw, as the deliciously dark tale of a strict vegetarian who discovers a taste for human flesh after heading to a brutal veterinary college where initiation ceremonies are the norm, gets a Standard Edition Blu-ray release thanks to Second Sight Films.
BAFTA nominated and Palme d'Or winner Julia Ducournau's (Titane) shocking feature film debut was acclaimed by critics after a barnstorming debut at Toronto International Film Festival, where paramedics had to be called after audience members fainted at the film's premiere. Now, after wowing audiences on its initial release and its hugely successful Limited Edition, Second Sight has once again pulled the Raw ingredients together for the brilliant Raw Standard Edition release, that has a full menu of extras.
Shy student Justine (Garance Marillier – Warning, Titane), heads to a veterinary school and is subjected a tough series of hazing rituals from fellow students. And it's even tougher for vegetarian Justine as she is covered in blood and forced to eat raw meat. But after tasting the flesh, Justine finds herself craving even more meat - and it doesn't matter if it's animal or human as her uncontrollable desires lead to a horrific outcome.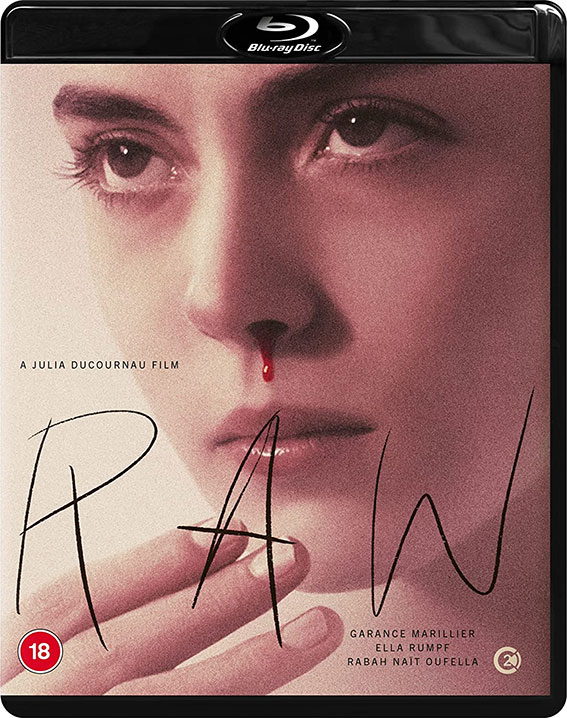 Raw Standard Edition will be released on Blu-ray on 8 August 2022 by Second Sight Films on a yet-to-be confirmed RRP.
STANDARD EDITION BLU-RAY SPECIAL FEATURES:
The Girl Can't Help It: a new interview with Actor Garance Marillier
Making Ends Meat: a new interview with producer Jean des Forets
New audio commentary by film critic Alexandra West
Audio Commentary with Julia Ducournau and film critic Emma Westwood
In the Name of Raw: an interview with director Julia Ducournau
A Family Affair: a new video essay by film critic Alexandra Heller-Nicholas
Raw À Votre Goût: featurette with Julia Ducournau & film critic Emma Westwood
Quick Bites with Julia Ducournau & film critic Alexandra Heller-Nicholas
Genre Matters Panel Discussion
Australian Premiere Introduction
Australian Premiere Q&A with Julia Ducournau and Kier-La Janisse
Alternative opening, deleted scenes, trailers
You can read our review of the Limited Edition here.