Following the BFI's Blu-ray release of Robert Bresson's Pickpocket (1959), the director's 1983 film L'argent comes to Blu-ray on 8 August, restored from the original negative. This energetic, enigmatic indictment of capitalism is a late masterpiece by Bresson (which won the Best Director prize at Cannes) imbued with a fierce cinematic power and tautly positioned amid the coldly structured complexities of human behaviour. Extras include a discussion filmed during the recent Robert Bresson season at BFI Southbank, an interview with Jonathan Hourigan, Bresson's former assistant and a video essay on L'argent by Michael Brooke.
Adapted from a novella by Leo Tolstoy, Bresson's portrait of an ordinary man driven to ever-more extreme crimes by social and financial forces beyond his control probes uncomfortably beneath the surface of 'civilised' society. This compact, rigorously stylised film and the awkward questions it poses, about the nature of forgiveness and the possibility of redemption, is a rich testament to one of cinema's greatest auteurs.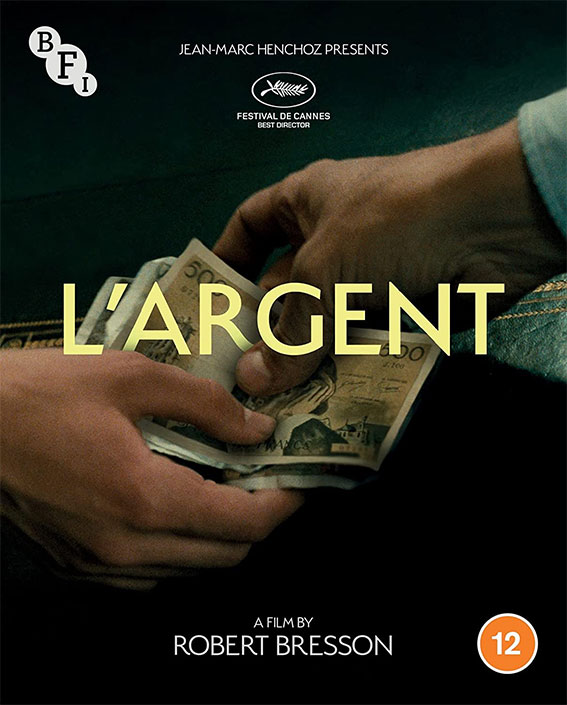 L'argent will be released on UK Blu-ray by the BFI on 8 August 2022 at the RRP of £19.99, and on iTunes and Amazon Prime on 15 August 2022.
BLU-RAY FEATURES:
Restored from the original negative and presented in High Definition
Style, Anti-style and Influence (2022, 22 mins): an onstage discussion between Geoff Andrew, Jonathan Hourigan and Nasreen Munni Kabir on the films of Robert Bresson, filmed at BFI Southbank
First and Last (2022, 9 mins): film scholar Jonathan Hourigan, former assistant to Robert Bresson, compares the director's first feature, Les Anges du péché, with his last, L'Argent
The Root of All Evil (2022, 19 mins): writer Michael Brooke considers Bresson's late masterpiece in this newly commissioned video essay
Jonathan Hourigan on L'Argent (2007, 27 mins, audio only): an audio introduction to the film
Value For Money (1970, 22 mins): David Blest's dreamlike, experimental short film, featuring Quentin Crisp, visualises coin-operated connections between money and religion
Theatrical trailer
First pressing only: Illustrated booklet featuring writing by Jonathan Hourigan an essay by Dr Martin Hall and a review by Tom Milne originally published in Monthly Film Bulletin in 1983; credits and notes on the special features