I Spit on Your Grave, the infamous 1978 cult classic that changed the face of cinema forever, is back in stunning 4K Ultra HD, restored and fully remastered. This release offers the chance to re-experience the phenomenon that shocked and divided the world as Jennifer Hills enacts her horrific plans for revenge, culminating in some of the most gruesome scenes ever captured on film.
This three-disc collection, packaged in a premium O-ring boxset with four exclusive artcards, includes feature-length documentary Growing Up with I Spit on Your Grave and exclusive, specially commissioned extras including: brand new audio commentary with the legendary Camille Keaton, and editor of Ultra Violent Magazine, Art Ettinger; an exciting in-depth interview with film historian Chris Poggiali; and a new introduction from star, Camille Keaton.
Hailed as a feminist-revenge masterpiece by some, and condemned as nasty exploitation by others, I Spit on Your Grave is engrained in film history and this is the ultimate tribute to a cult phenomenon, a must-have for fans and collectors.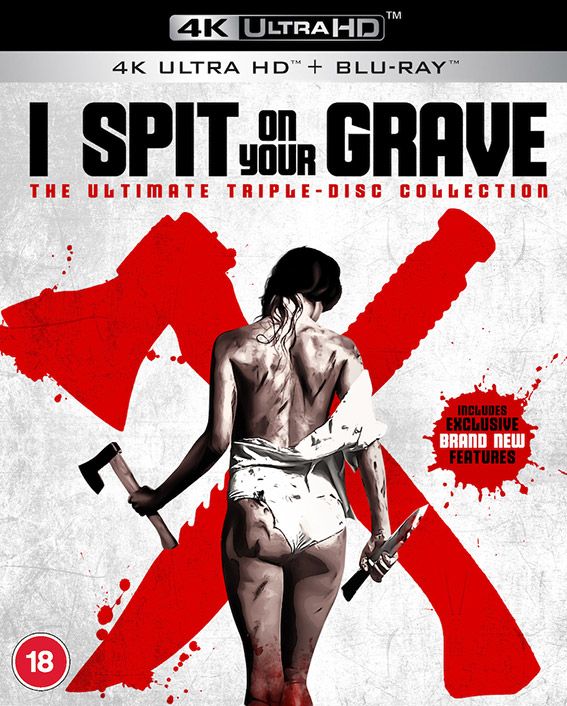 I Spit on Your Grave will be released on 4K UHD/Blu-ray by Kaleidoscope Home Entertainment on 26 September 2022. We don't have an official RRP yet, but it's currently available for pre-order on Amazon for £39.99.
3-DISC UHD/BLU-RAY CONTENTS:
Premium O-ring boxset with four art cards
DISC 1: I SPIT ON YOUR GRAVE 4K ULTRA HD:
Audio Commentary with Camille Keaton, moderated by Art Ettinger of Ultra Violent Magazine (NEW) Camille Keaton reflects on her acting career and role in the legendary film "I Spit on Your Grave"
Audio Commentaries with Director Meir Zarchi and Critic Joe Bob Briggs
DISC 2: I SPIT ON YOUR GRAVE BLU-RAY:
Introduction by Camille Keaton (NEW)
Box Office Gross (NEW): An interview with writer/film historian Chris Poggiali about legendary exploitation film distributor Jerry Gross, the creative force behind the rebranding and distribution of "I Spit on Your Grave" from the silver screen to home entertainment audiences.
The Values of Vengeance: Meir Zarchi remembers I Spit on Your Grave
Jennifer's Journey: The Locations of I Spit on Your Grave (NEW TO UK)
Day of the Woman alternate opening title
Theatrical trailers
TV spots
Radio spots
Rare photos from set
Stills callery
DISC 3: GROWING UP WITH I SPIT ON YOUR GRAVE (BLU-RAY):
Feature-length documentary and the first ever in-depth analysis of this cult classic helmed by Terry Zarchi, son of franchise creator and director Meir Zarchi
Deleted Scenes
Terry Zarchi's 8mm film starring Camille Keaton
Home Movie: Camille & Meir's Wedding (NEW TO UK)
Trailer