Burning and Illusion (1981), the pioneering first feature from Menelik Shabazz, marked a coming of age for Black British cinema. A film about transformation and identity, this sensitive and entertaining love story traces the emotional and political growth of a young Black couple in Thatcher's London. After its recent run at BFI Southbank and selected cinemas, it comes to Blu-ray and selected digital platforms in September.
Pat (Cassie McFarlane), an ordinary London girl with a caring family, a job she enjoys and her own flat, seeks nothing more than to settle down to a life of married, middle-class conformity. Her cosy world is jolted when she meets Del (Victor Romero Evans), a charming and vaguely discontented toolmaker, who soon moves in but then loses his job, causing them both to challenge their assumptions about each other and their aspirations.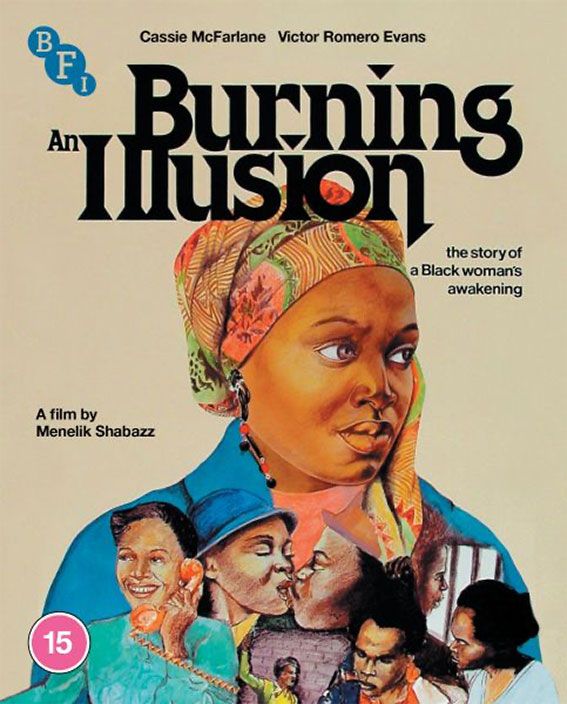 Burning an Illusion will be released on Blu-ray by the BFI on 19 September at the RRP of £19.99, with simultaneous release on BFI Player Subscription, iTunes and Amazon Prime.
BLU-RAY SPECIAL FEATURES:
Presented in High Definition
Vintage commentary by Menelik Shabazz, Cassie McFarlane and Victor Romero Evans (2001)
Introduction by Menelik Shabazz (2005, 10 mins): the director discusses the background to Burning an Illusion and Blood Ah Goh Run
Cassie McFarlane Introduction (2022, 7 mins): the actor talks about her role and discusses the film's production
Blood Ah Goh Run (1982, 13 mins): a short documentary on the response to the New Cross fire of 1981 and the Black People's Day of Action
Step Forward Youth (1977, 29 mins): interviews with first-generation Black British youth on their attitudes to identity, family, police, race and fashion
Original theatrical trailer
Gallery
Sleeve featuring original poster artwork by Anum Iyapo and Shakka Dedi
 First pressing only – Illustrated booklet with a new essay by Alex Ramon, an article by Dr Clive Nwonka from Sight and Sound (March 2022), an interview with Menelik Shabazz from Monthly Film Bulletin (1988), a director biography, notes on the special features and credits
Here's a clip from the film: