Hollywood enchantress Ava Gardner (The Killers) casts a glamorous, beguiling spell across this eerily evocative, unjustly overlooked British folk horror from 1971. Loosely based around the traditional Scottish ballad, and shot in the Borders, it would be the sole directorial credit of legendary Planet of the Apes actor, Roddy McDowall. The Ballad of Tam Lin, released on Blu-ray on 10 October, comes with a huge selection of extras including an audio commentary by the BFI Flipside co-founders, interviews with cast members Ian McShane and Stephanie Beacham and new interviews with Madeline Smith, and Pentangle's Jacqui McShee.
Swinging-London photographer Tom Lynn (Ian McShane, Sexy Beast), the current bedroom favourite of beautiful, wealthy widow Mrs Cazaret (Gardner), joins his lover and a kooky coven of bright young things for decadent debauchment at a remote Scottish moorland retreat. But when Tom falls instead for Janet (Stephanie Beacham, Dracula AD 1972), daughter of the local vicar (Cyril Cusack, Fahrenheit 451), he must face the fiery fury of a woman scorned: drug-fuelled, dangerous, deadly games…
Special event: DEEPER INTO WEIRD WALK: THE BALLAD OF TAM LIN
Monday 31 October at the Rio Cinema, Dalston, London. A screening of The Ballad of Tam Lin with special guests Ian McShane and Stewart Lee. Tickets will be on sale on Friday.
www.weirdwalk.co.uk
www.deepermovies.com/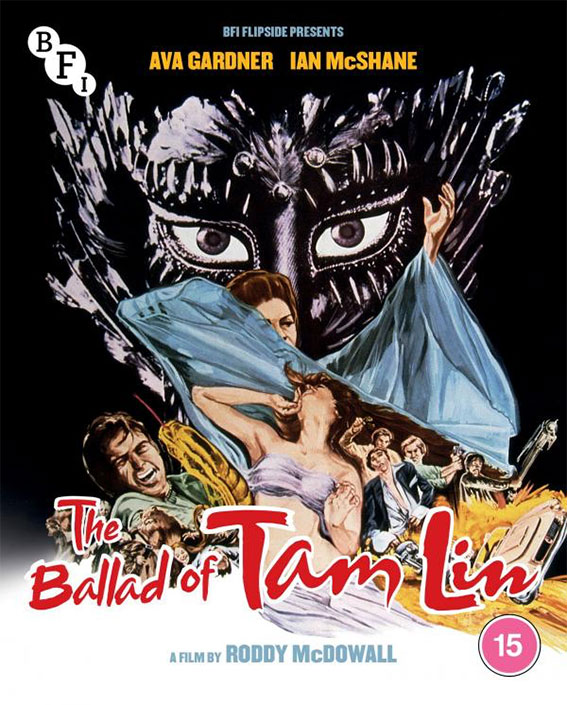 The Ballad of Tam Lin will be released on Blu-ray by the BFI as release number 045 on its Flipside strand on 10 October 2022 at bthe RRP of £19.99.
Pre-order THE BALLAD OF TAM LIN from the BFI Shop:
https://shop.bfi.org.uk/the-ballad-of-tam-lin-blu-ray.html
BLU-RAY FEATURES:
Presented in High Definition
Audio commentary by BFI Flipside co-founders William Fowler and Vic Pratt (2021) 
Love You and Leave You For Dead (2021, 11 mins): Ian McShane on Tam Lin 
An Eerie Tale to Tell (2021, 10 mins): Stephanie Beacham on Tam Lin 
Ballad of a B-Movie: Revisiting Tam Lin (2021, 12 mins): interview with Roddy McDowall biographer David Del Valle
Legendary Ladies of the Silver Screen: Ava Gardner (1998, 18 mins): Roddy McDowall remembers Ava Gardner and The Ballad of Tam Lin in this adoring archive introduction
Adventures Along the Way (2022, 32 mins): actress Madeline Smith looks back on being one of the coven
Listening In (2022, 27 mins): Jacqui McShee, lead singer of the seminal British folk group Pentangle, recalls the writing and recording of the film's cult soundtrack
Hans Zimmer on Stanley Myers (2021, 20 mins, audio only): the much-loved composer discusses the work of Stanley Myers
Red Red? Red (Jim Weiss, Chris Maudson, John Phillips, 1971, 34 mins): an impressionistic study of a commune in Devon where people dress up, play instruments, make love and take part in strange revolutionary games
Border Country (26 mins): rare short films from the BFI National Archive reveal rural lifestyles at Scotland's edge
Theatrical trailer
First pressing only – Illustrated booklet with a new essay on the film by the BFI's William Fowler, essays by Sam Dunn and Corinna Reicher, a contemporary review by Tom Milne from Monthly Film Bulletin and notes on the special features and credits