Eureka! Entertainment have announced the release of Ace in the Hole, one of the great masterpieces by Billy Wilder, the writer-director of Double Indemnity, The Lost Weekend, Sunset Boulevard, and Some Like It Hot and universally acclaimed as Kirk Douglas' finest screen performance besides Kubrick's Paths of Glory.
In one of the most powerhouse performances in American screen-acting, the great Kirk Douglas stars as Chuck Tatum, a newspaper reporter who stumbles upon a potentially career-making story in Albuquerque, New Mexico (nearly sixty years later, the setting for Vince Gilligan's Breaking Bad). When Tatum begins to influence the story's outcome, a descent beings that finds more than one man caught between a rock and a hard place.
An electric narrative that stands as one of Wilder's tautest and most (melo)dramatic plots (penned with Lesser Samuels and Walter Newman), Ace in the Hole plays today as a prescient examination of the modern media landscape, and the public appetite for the disastrous news-story that leads to toxic wish-fulfilment. – "I can handle big news and little news. And if there's no news, I'll go out and bite a dog."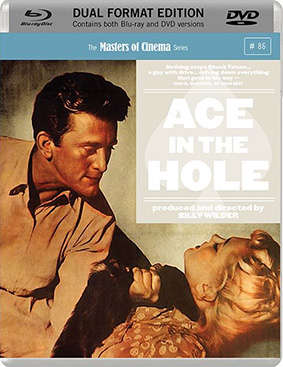 Ace in the Hole will be released on UK dual format (Blu-ray and DVD) on 28th April 2014 by Eureka! Entertainment as part of the Masters of Cinema series at the RRP of £17.99.
Featuring a gorgeous 1080p transfer of the film, the on-disc extras will be confirmed closer to the release date, but we can confirm that the disc will be accompanied by a 40-page booklet with a new essay, vintage interview material, rare archival imagery, and more.