In the fallout from our holiday break, we missed a couple of press releases from Network regarding 'The British Film' collection, so have combined them into one news story. We recently posted a listing of all of the titles Network have so far announced for this collection for the next three months, but we only provided a basic plot outline for each. Here we have full details for each of the releases in 'The British Film' collection for mid to late July. Details of the early July titles can be found here.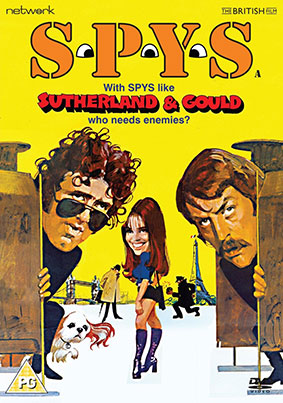 S*P*Y*S (1974)
Before Austin Powers, before Johnny English, there were S*P*Y*S.
CIA misfits Douglas Griffin and Eric Brulard are unaware of each other's existence until both turn up at the same pissoir in search of a mysterious hidden package. When the urinal immediately explodes, each is convinced that the other is a KGB assassin!
Capitalising on the huge success of their onscreen pairing in M*A*S*H, right down to ripping off the format of the title, this highly enjoyable 1974 espionage spoof reunited Donald Sutherland and Elliott Gould as a couple of bungling Paris-based American agents walking a tightrope in a world of peepholes and booby-traps. Filmed largely in Paris and London, co-starring Joss Ackland (White Mischief) and featuring the English-language debut of French icon Zou Zou (Love in the Afternoon), S*P*Y*S (PG) is available on DVD from 14th July 2014 at thge RRP of £9.99, courtesy of Network Distributing.
Special features:
Promotional material PDF
Image gallery
Original theatrical trailer
Instant play facility
Ring of Spys (1964)
An antiquarian bookseller and his wife; a disgruntled, hard-drinking naval clerk and the lonely secretary he recruits; a polished Soviet agent who assumes the identity of a dead Canadian citizen: the players in a Cold War story of hidden cameras, dead-letter drops and long-range radio calling Moscow Central. A duel between Soviet intelligence and British counter-espionage, and a trade in deadly secrets directed from a bungalow in suburban Ruislip, hidden for years from unsuspecting neighbours and British spycatchers.
What sounds initially like a sequel to the film detailed above is actually an intriguing drama based on the true story of the Portland spy ring – an unlikely Soviet operation active in southern England from the late 1950s until 1961. Also known as Ring of Treason, in case you're trying to look it up on IMDb, it will be released on DVD 21st July 2014 courtesy of Network Distributing at the RRP of £9.99.
Directed by TV drama veteran Robert Tronson, it stars Bernard Lee (best known as James Bond's M, a spy master himself), William Sylvester, Thorley Walters and BAFTA winners Margaret Tyzack and David Kossoff.
Special features:
Original theatrical trailer
Image gallery
Promotional material PDF
Instant play facility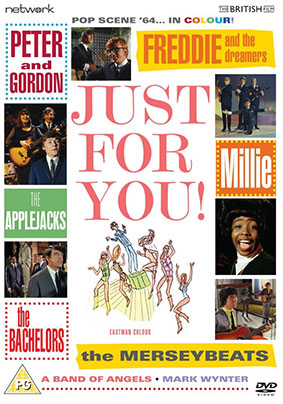 Just for You (1966)
This ultra-rare musical film of 1966 tells the story of a rock 'n' roll hopeful searching for his big break. Just for You (PG) will be released as part of 'The British Film' collection from Network Distributing on 21st July 2014 at the RRP of £9.99.
Following the young singer as he goes from studio to studio with his girlfriend and attempts to convince radio and TV executives to play his song, Just for You becomes a showcase for a host of sixties musical talent, including Freddie and The Dreamers, The Applejacks, Millie, The Bachelors, Peter and Gordon, The Merseybeats and many more. The film was co-directed by Douglas Hickox, who later gave us the horror favourite Theatre of Blood.
Known in the US as Disk-O-Tek Holiday (oh, classy), the film is presented here in a brand-new transfer from the original film elements, in its as-exhibited theatrical aspect ratio.
Special features:
Original theatrical trailer
Image gallery
Promotional material PDF
Instant play facility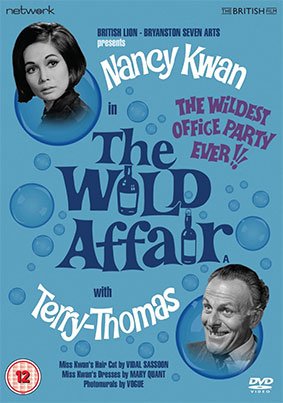 The Wild Affair (1963)
As her wedding day approaches, secretary Marjorie begins to panic. Afraid that she will sink into the obscurity of marriage without ever having proved herself as a free-spirited woman, she sees the office party as her last chance to flirt with intent. She sets off to work wearing a frilly, plunging dress and, as the day wears on, garners a number of interesting offers and propositions – both from her lecherous boss, Godfrey, and a tall, dark, handsome stranger.
Made in 1963, The Wild Affair (12) launched a worldwide phenomenon when star Nancy Kwan's hair was styled into a revolutionary new bob by Vidal Sassoon. The hair, combined with clothes styled by 60s icon Mary Quant, meant Kwan's look was copied across the world! Kwan (Flower Drum Song) stars in the lively romantic comedy as a girl who's determined to establish a notorious past with which to face a respectable future. The film also features British favourites of the time Victor Spinetti and Terry-Thomas. The Wild Affair will be released on DVD by Network Distributing on 28th July 2014 at the RRP of £9.99.
Special features:
Image gallery
Instant play facility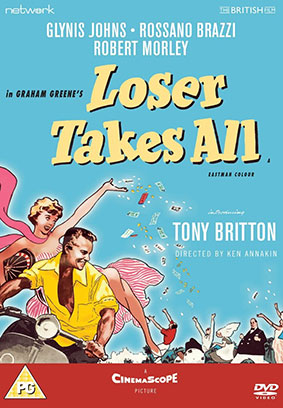 Loser Takes All (1956)
Bertrand, an accountant employed by a large London firm, is called to the office of the Managing Director, Dreuther, to explain a mistake in the accounts. Dreuther is highly impressed by the young accountant's skilful explanation of the error and, hearing that Bertrand is soon to marry his spirited young fiancée, tells him to spend the honeymoon not in Bournemouth, but Monte Carlo – at the company's expense! However, events in the Mediterranean do not work out quite as Bertrand had envisaged.
Adapted by Graham Greene from his own novel, this witty, glamorous comedy-drama stars Italian screen idol Rossano Brazzi (The Barefoot Contessa, Summertime) alongside British stars Glynis Johns, Robert Morley, Tony Britton and veteran character actor Felix Aylmer. It was directed by Ken Annakin, whose later films included Battle of the Bulge, Paper Tiger and the British exterior episodes of The Longest Day.
Released in 1956, Loser Takes All (PG) is presented here in a brand-new transfer from the original film elements and will be released by Network Distributing on DVD on 28th July 2014 as part of 'The British Film' collectionat the RRP of £9.99.