In order to free his family from financial worries, Marc Duval (Gilles Lellouche – Mesrine: Killer Instinct, Little White Lies, Tell No One), a Frenchman expatriated to Gibraltar, becomes a spy for French customs. From petty trafficking to shady cargo, he progressively wins the trust of Claudio Lanfredi (Riccardo Scamarcio – Loose Cannons), a powerful cocaine importer tied to the dangerous Columbian cartels.
This in-depth immersion in the world of drug trafficking forces Marc to take increasing risks. But, as he rises in the cartel hierarchy, he also discovers easy money, temptation and a luxury lifestyle. Permanently living on a knife edge, only his lies keep him alive. When the English customs join the game to arrest Lanfredi, it becomes even more dangerous and Marc's family risks paying the price.
Inspired by real events, The Informant (original title Gibraltar) is being promoted in the press reelase as being from the writer of Mesrine and Un prophète (that's Abdel Raouf Dafri, who co-wrote in both cases) and the co-producer of The Artist and Black Book (that'd be Adrian Politowski). I'm always a little nervous when we're asked to compare films on the basis of their co-producer rather than their director. And what of the director? Julien Leclercq has done OK for himself in the past and his previous films also deserve a mention, the dystopian science fiction drama Chrysalis and the hijack thriller The Assault.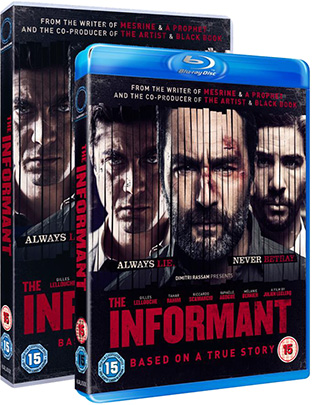 The Informant will be released on UK Blu-ray and DVD on 25th August 2014 by Kaleidoscope Home Entertainment at the RRP of £17.99 for the Blu-ray, £19.99 for the DVD.
No extra features have been detailed as yet.