Moby Dick is a television miniseries based on Herman Melville's 1851 classic novel of the same name. It tells the story of the sole survivor of a lost whaling ship, who relates the tale of his captain's self-destructive obsession to hunt the white whale, Moby Dick.
Captain Ahab, played by William Hurt (Altered States, Into the Wild), goes on the hunt for the great white whale – which in an earlier encounter cost him his lower right leg. Now Ahab wants payback, taking a crew out to sea including first mate Starbuck (Ethan Hawke – Training Day, Boyhood) and second mate Stubb (Eddie Marsan – Sherlock Holmes), in search of "Moby Dick".
The two-part series also stars Donald Sutherland (Don't Look Now, The Hunger Games) as Father Mapple and Gillian Anderson (The X-Files) as Elizabeth – the wife of Captain Ahab.
An Austrian-German co-production, the series was directed by British filmmaker Mike Barker (Silent Witness, Broadchurch) from a screenplay by novelist, playwright and screenwriter Nigel Williams (Fortysomething, Unfaithfully Yours).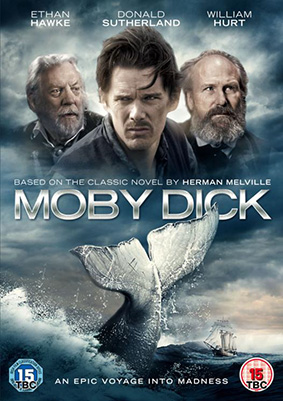 Moby Dick will be released on UK DVD on 13th October 2014 by Kaleidoscope Home Entertainment at the RRP of £15.99.
No extra features have been listed.