Network Distributing have announced the upcoming release of two intriguing and acclaimed British horror works from 1978, The Shout, starring Alan Bates as an asylum inmate with supernatural powers, and The Medusa Touch, starring Richard Burton as a novelist who develops catastrophic telekentic abilities.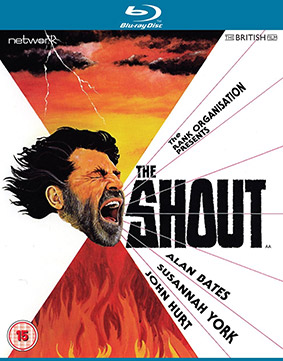 The Shout
During a cricket match at an insane asylum between the inmates and the local villagers, patients Crossley and Graves keep themselves entertained by telling stories. Crossley tells of how he came to possess supernatural powers enabling him to kill with a single shout and although his friend dismisses the tale as an insane fantasy, as the match continues the proceedings take an emphatically sinister turn.
Oscar-nominee Alan Bates turns in one of his most forceful performances as an asylum inmate with supernatural powers in a film that is both highly unsettling and deeply compelling – a perfect companion piece to Nicolas Roeg's '70s masterpiece Don't Look Now. Also featuring strong performances from Susannah York (They Shoot Horses, Don't They?, The Silent Partner) and John Hurt (The Elephant Man, Alien), and employing a distinctive narrative style employed by Palm d'Or-nominated director Jerzy Skolimowski (Essential Killing, The Avengers).
The Shout arrives on UK Blu-ray on 15th September 2014 at the RRP of £14.99 from Network Distributing as part of 'The British Film' collection.
Special features:
Audio commentary with horror film experts Kim Newman and Stephen Jones

Booklet by Kim Newman

Original theatrical trailer

Textless material

Image gallery

Original press material PDFs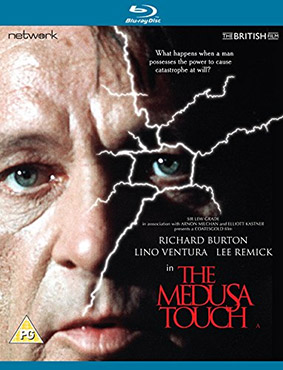 The Medusa Touch
John Morlar, a well-known novelist, is savagely attacked in his London flat. Barely alive, he is taken to hospital, and Brunel, a French detective currently based in the capital, is assigned to the case. His investigations lead him to Morlar's psychiatrist, who discloses that her patient is obsessed: Morlar feels he bears an awesome telekinetic power – the capacity to "will" destruction and death by making airplanes crash and buildings crumble, start raging fires and unleash mighty floods. Preposterous though it seems, Morlar's power is sickeningly real – he is able to wreak havoc at will and seemingly can't be stopped.
Directed by Jack Gold from a script by Oscar-winner John Briley (Ghandi, Cry Feedom), The Medusa Touch is a star-studded, fast-paced thriller with a spectacular, spine-chilling climax. Starring Richard Burton in what author and critic Kim Newman calls his "best screen work of the 1970s", The Medusa Touch will be released on UK Blu-ray for the first time on 15th September 2014 at the RRP of £14.99, courtesy of Network Distributing's 'The British Film' collection.
The Medusa Touch is featured here in a High Definition transfer made from original film elements in its as-exhibited theatrical aspect ratio.
Special features:
Audio commentary with director Jack Gold, Kim Newman and Stephen Jones

Destroying the Abbey: behind the scenes footage

Original theatrical trailer

Image gallery