In what is already being heralded as one of her greatest performances, Marion Cotillard (Rust and Bone, Midnight in Paris) plays Sandra who has her employment threatened by the very people she works with when, behind her back, upper management offer the workforce a significant bonus if they vote for Sandra to lose her job. With only a single weekend to spare she must confront each of her co-workers and persuade them to change their decision so she can maintain her livelihood.
The latest film from Jean-Pierre and Luc Dardenne (L'enfant, The Silence of Lorna, The Kid with a Bike), Two Days, One Night [Deux jours, une nuit] was acclaimed by Little White Lies as "the Dardennes' greatest film to date" while Peter Bradshaw in The Guardian called it "a brilliant social-realist drama with a real narrative tension."
Two Days, One Night was also the fourth Dardenne film to be nominated for the Palme D'Or at Cannes, which they won twice for L'enfant and Rosetta (1999).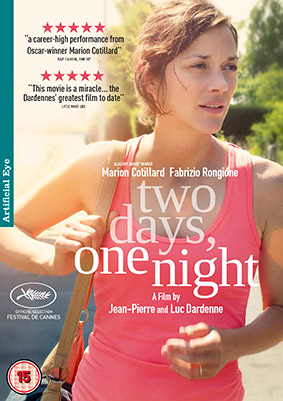 Two Days, One Night will be released on UK DVD and Blu-ray on 20th October 2014 by Artificial Eye at the RRP of £15.99 for the DVD and £19.99 for the Blu-ray.
Extra features will include:
Interview with Marion Cotillard

Interview with Luc & Jean-Pierre Dardenne

Trailer