Art Garfunkel (Catch-22, Carnal Knowledge) and Theresa Russell (The Believer, Kafka) bring a fearless intensity to their roles in this dark psycho-sexual drama from multi-award-winning director Nicolas Roeg (Walkabout, Don't Look Now).
Vienna-based psychoanalyst Alex Linden is involved in a passionate affair with Milena Flaherty, a hedonistic, sexually impulsive and clearly troubled young woman. When Milena is brought into a hospital emergency room after apparently overdosing, detectives investigate the possibility of foul play on Alex's part. As he recounts the events to the investigating officer, Alex is forced to confront his own motives and detectives must decide whether her condition is the result of a suicide attempt, or something more sinister.
Bad Timing was produced by Jeremy Thomas (whose CV makes astonishing reading – look it up), and co-stars Harvey Keitel (Reservoir Dogs, The Piano, Bad Lieutenant), Denholm Elliott (A Room With a View, Trading Places) and Daniel Massey (The Vault of Horror, In the Name of the Father).
Described by DVD Beaver as "a masterful, deeply disturbing foray into the dark world of sexual obsession," the film features a mesmerising soundtrack that includes music from, amongst others, Billie Holiday, The Who, Tom Waits and Ludwig van Beethoven. Unflinchingly tracing the volatile relationship between two young Americans in late '70s Vienna, Bad Timing proved highly controversial on its release in 1980, and remains one of Roeg's most divisive films. It is presented here in a brand-new High Definition transfer from original film elements in its as-exhibited theatrical aspect ratio.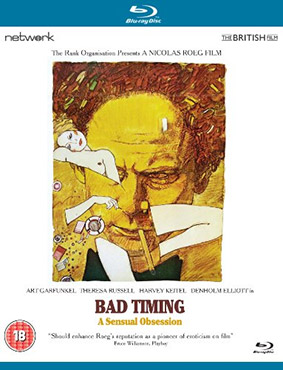 Bad Timing will be released on UK Blu-ray on 26th January 2015 by Network Distribution as part of 'The British Film' at the RRP of £14.99.
Special features will include: