Donald Sutherland (Don't Look Now) and Kate Nelligan (The Prince of Tides) play star-crossed lovers torn between passion and allegiance in this heart-wrenching World War II-set thriller, played out against the Blitz-scarred 1940s backdrop of England and the windswept hills of the Scottish islands.
Eye of the Needle, directed by Richard Marquand (Return of the Jedi, Jagged Edge) and adapted from the novel by Ken Follett, comes to Blu-ray for the first time in September from the BFI in a Dual Format Edition. Extras include an audio commentary, interview with Donald Sutherland and three wartime propaganda films.
En route to the Fatherland with secrets that will stop the D-Day invasion, ruthless spy 'The Needle' (Donald Sutherland) finds himself shipwrecked on the remote Storm Island. Here he becomes involved in a perilous affair with the beautiful but lonely Lucy (Kate Nelligan), who lives there with her bitter, crippled ex-RAF husband, David (Christopher Cazenove). But can the fierce passion of illicit love survive the bitter realities of war?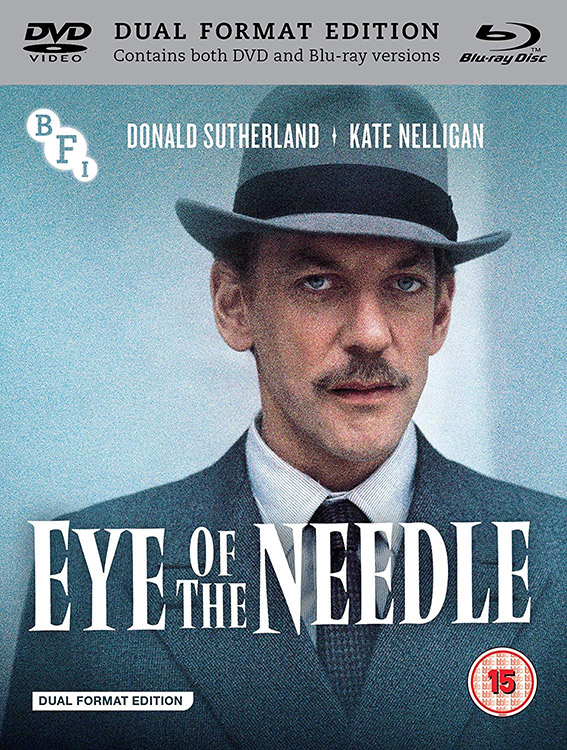 Eye of the Needle is to be released in thhe UK as a Dual Format edition (Blu-ray & DVD) by the BFI on 24 September 2018 at the RRP of £19.99.
Special features:
Director Richard Marquand's preferred cut of the film, presented in High Definition and Standard Definition

Audio commentary by Julie Kirgo, Nick Redman and music historian in Jon Burlingame

Alternate ending sequence, which appeared on the previous UK DVD release

Donald Sutherland Guardian Interview

 (1987, 73 mins, audio only) 

Careless Talk Costs Lives: Wartime Warnings(36 mins):three short wartimepropaganda films produced by Ealing Studios in1940 for the Ministry ofInformation

Theatrical trailer

Illustrated booklet with full film credits and new writing by Little White Lies essayist Paul Fairclough
Here's a short clip: