Today, Eureka Entertainment announced its June home entertainment releases, Arnold Fanck's The Holy Mountain, Roger Spottiswoode's masterful political drama Under Fire and a classic John Woo double of Last Hurrah for Chivalry and Hand of Death.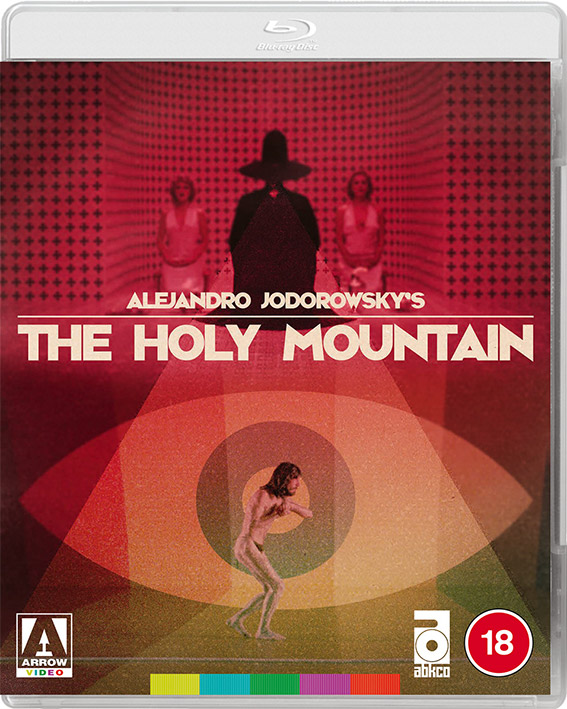 The Holy Mountain [Der heilige Berg] (1926) | Blu-ray | 17 June 2019
German filmmaker Arnold Fanck made this beautifully photographed Bergfilm, or 'mountain film', in 1926. Written in three days and nights – especially for Leni Riefenstahl – The Holy Mountain took over a year to film in the Alps with an entourage of expert skiers and climbers.
Ostensibly a love triangle romance – between Riefenstahl's young dancer and the two explorers she encounters – Fanck relishes the glorious Alpine landscape by filming death-defying climbing, avalanche dodging, and frenetic downhill ski racing. 
Digitally restored in 2K, The Holy Mountain is a visual feast – and a fascinating look at the origin of a genre.
Masters of Cinema Blu-ray features:
1080p presentation on Blu-ray, from a 2014 2K digital restoration 
Score by Aljoscha Zimmerman, available in both LPCM 2.0 and DTS-HD MA 5.1
Original German intertitles with optional English subtitles
The Wonderful, Horrible Life of Leni Riefenstahl [180 mins] – Ray Müller's definitive documentary on the life and career of Leni Reifenstahl. 
Feature Length Audio Commentary by film historian Travis Crawford
A collector's booklet featuring a new essay by critic and film historian Kat Ellinger, and a 2004 essay by Doug Cummings from the original Masters of Cinema DVD release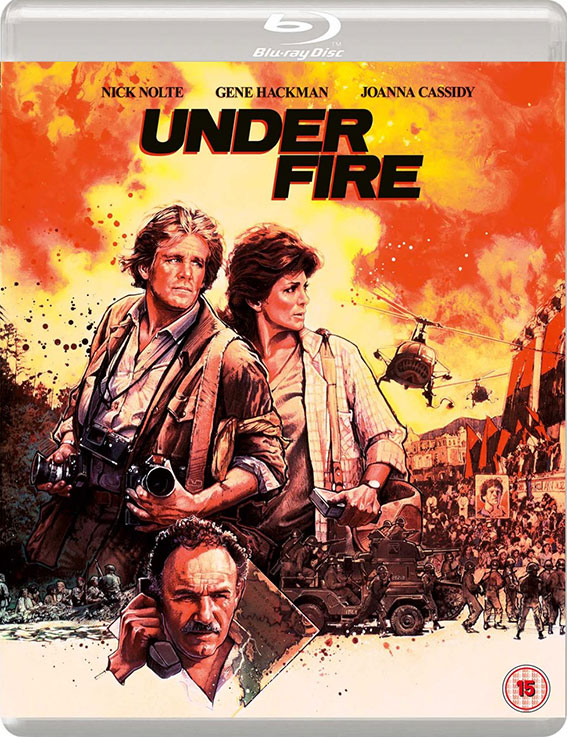 Under Fire (1983) | Blu-ray | 17 June 2019
Nick Nolte, Gene Hackman and Joanna Cassidy play three journalists caught up in the 1979 Nicaraguan revolution in Under Fire.
Russel Price (Nolte) is a gutsy photo-journalist who gets caught between his love for reporter Claire Stryder (Cassidy) and his friendship with her husband, Alex Grazier (Hackman). Caught up in the war between the Nicaraguan government and the Sandinista rebels, Price loses sight of his objectivity and becomes deeply involved in the skirmish. 
With cinematography by the great John Alcott (2001: A Space Odyssey, Barry Lyndon) and one of Jerry Goldsmith's greatest scores (later sampled in Quentin Tarantino's Django Unchained), Under Fire is director Roger Spottiswoode's greatest filmmaking achievement, a complex political thriller with shades of Casablanca.
Blu-ray features:
Stunning 1080p presentation on Blu-ray
Uncompressed LPCM 2.0 audio
Optional English SDH subtitles
Audio Commentary with director Roger Spottiswoode, Assistant Editor Paul Seydor and Photo-Journalist Matthew Naythons, and Film Historian Nick Redman
Audio Commentary with Music Mixer-Producer Bruce Botnick, Music Editor Kenny Hal and Film Historians Jeff Bond, Julie Kirgo, and Nick Redman
Joanna Cassidy Remembers Under Fire [3 mins]
Original Theatrical Trailer
Limited Edition Collector's booklet featuring new writing by author Scott Harrison [2000 copies]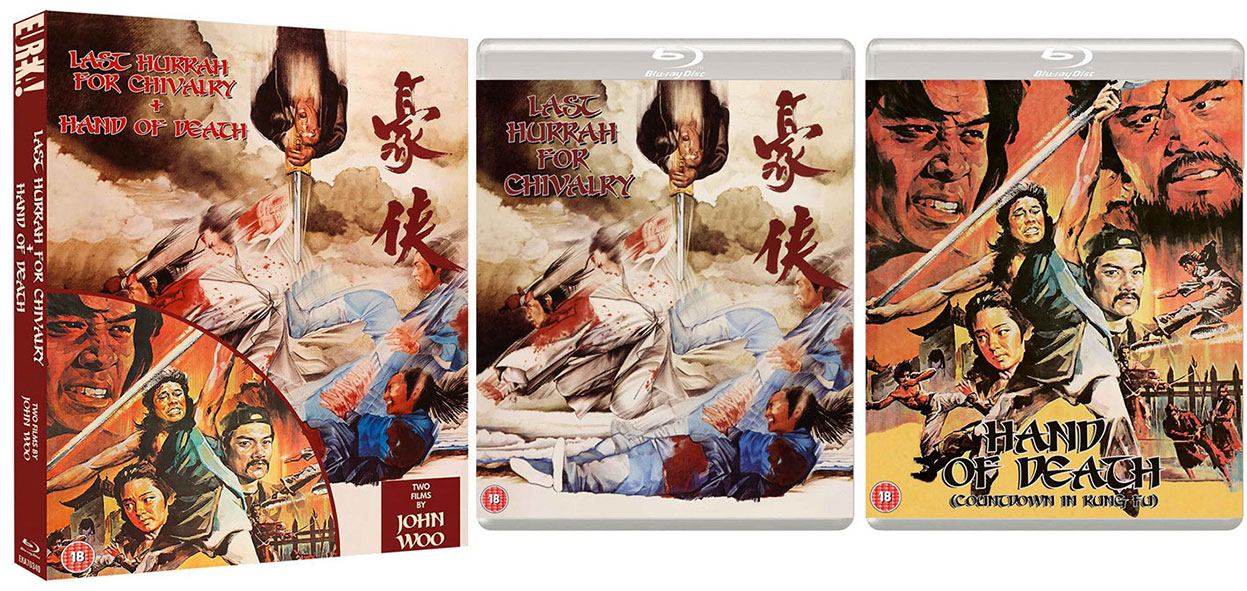 Last Hurrah for Chivalry / Hand of Death: Two Films by John Woo (1976) | Blu-ray | 24 June 2019
A decade before he would change action filmmaking forever with A Better Tomorrow and The Killer, director John Woo was directing martial-arts films for the two biggest studios in Hong Kong, Shaw Brothers and Golden Harvest. Under the mentorship of the great Chang Cheh (Five Deadly Venoms), Woo began to develop his signature style, films that featured slick, stylish and often violent choreography, with dramatic plots that revolved around brotherhood, honour and redemption. Presented here are two of his early works from this period.
In Last Hurrah for Chivalry, two killers (Wei Pai and Damian Lau) agree to help a man exact revenge upon a kung fu master. Woo's first cinematic masterpiece, Last Hurrah for Chivalry is a dark and violent revenge film, featuring lightning fast swordplay and stylish cinematography. 
In Hand of Death, a young Shaolin monk must train to defeat a dangerous Manchu warlord (James Tien) who is intent on wiping out the Shaolin once and for all. Featuring early performances from Jackie Chan and Sammo Hung (both also handled the film's stunts, along with third "brother" Yuen Biao), Hand of Death is an exquisitely stylish example of old school kung fu filmmaking. 
Obscure and largely unseen for many years, Eureka Classics is proud to present these two early films from one of action cinema's all-time greats for the first time ever on Blu-ray, from brand new 2K restorations.
Blu-ray features:
Stunning 1080p presentation of both films on Blu-ray, from brand new 2K restorations
Cantonese, Mandarin and English audio options
Optional English subtitles
Brand new audio commentaries on both Last Hurrah for Chivalry and Hand of Death, by martial-arts cinema authority Mike Leeder
Archival interviews with director John Woo
Trailers for both films
Reversible inlay featuring original poster artwork
Limited Edition Collector's booklet featuring new writing by film writer Matthew Thrift [2000 copies]