Eureka announced its August 2020 line up today, which will feature one of the most iconic and influential silent films of all time in the shape of The Man Who Laughs; another collection of films from arguably the greatest actor-director in the history of the movies, Buster Keaton: Buster Keaton: Our Hospitality / Go West / College; and a riveting World War II spy thriller from one of Hollywood's most lauded talents, Billy Wilder's Five Graves to Cairo.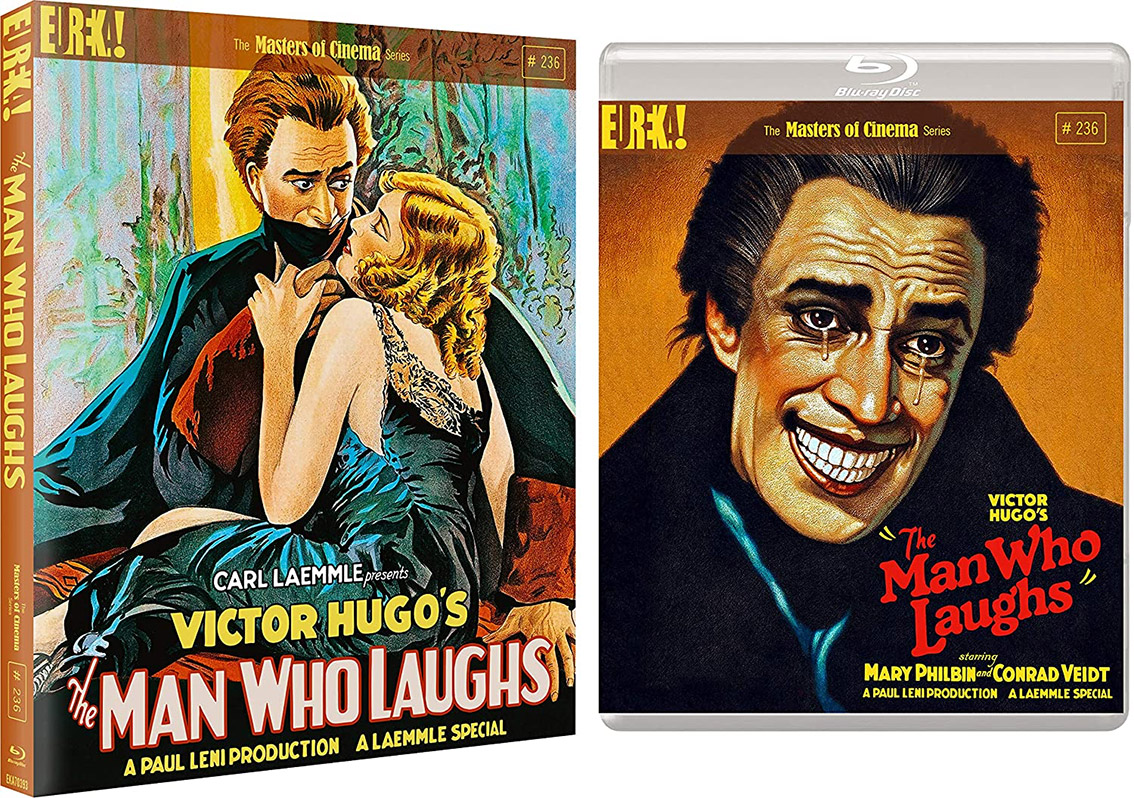 THE MAN WHO LAUGHS (USA 1928) | Blu-ray | 17 August 2020 | £17.99
One of the most visually striking of all the later silent films, The Man Who Laughs reunites German Expressionism director Paul Leni and cinematographer Gilbert Warrenton from their horror hit the previous year, The Cat and the Canary (1927). Both films are often considered to be among the earliest works of legendary horror classics from Universal Studios, yet the undeniably eerie Man Who Laughs is more accurately described as a Gothic melodrama. However, its influence on the genre and the intensity of the imagery – art director Charles Hall and makeup genius Jack Pierce would go on to define the look of those 1930s Universal horror landmarks – have redefined it as an early horror classic, bolstered by one of the most memorable performances of the period.
Adapted from the Victor Hugo novel, The Man Who Laughs is Gwynplaine (an extraordinary Conrad Veidt), a carnival sideshow performer in 17th-century England, his face mutilated into a permanent, ghoulish grin by his executed father's royal court enemies. Gwynplaine struggles through life with the blind Dea (Phantom of the Opera's Mary Philbin) as his companion – though she is unable to see it, his disfigurement still causes Gwynplaine to believe he is unworthy of her love. But when his proper royal lineage becomes known by Queen Anne, Gwynplaine must choose between regaining a life of privilege, or embracing a new life of freedom with Dea.
The startling makeup on Veidt was the acknowledged direct inspiration for The Joker in the 1940 Batman comic that introduced the character, and film versions of The Joker have been even more specific in their references to Leni's film. While The Man Who Laughs contains powerful elements of tragedy, doomed romance, and even swashbuckling swordplay, its influence on horror cinema is most pronounced. Leni died suddenly at the age of 44 a year after this film (with Veidt also unexpectedly passing away too soon in 1943), and The Man Who Laughs endures as one of the most haunting and stylish American silent films, made just as that era was coming to a close.
Blu-ray features:
LIMITED EDITION O CARD (2000 UNITS)
1080p presentation on Blu-ray from Universal's 4K restoration 
Uncompressed LPCM 2.0 (stereo) score by the Berklee School of Music
Uncompressed LPCM 2.0 (mono) 1928 movietone score
A brand new interview with author and horror expert Kim Newman
A brand new video essay by David Cairns
Paul Leni and "The Man Who Laughs" – featurette on the production of the film
Rare stills gallery
A collector's booklet featuring new writing by Travis Crawford, and Richard Combs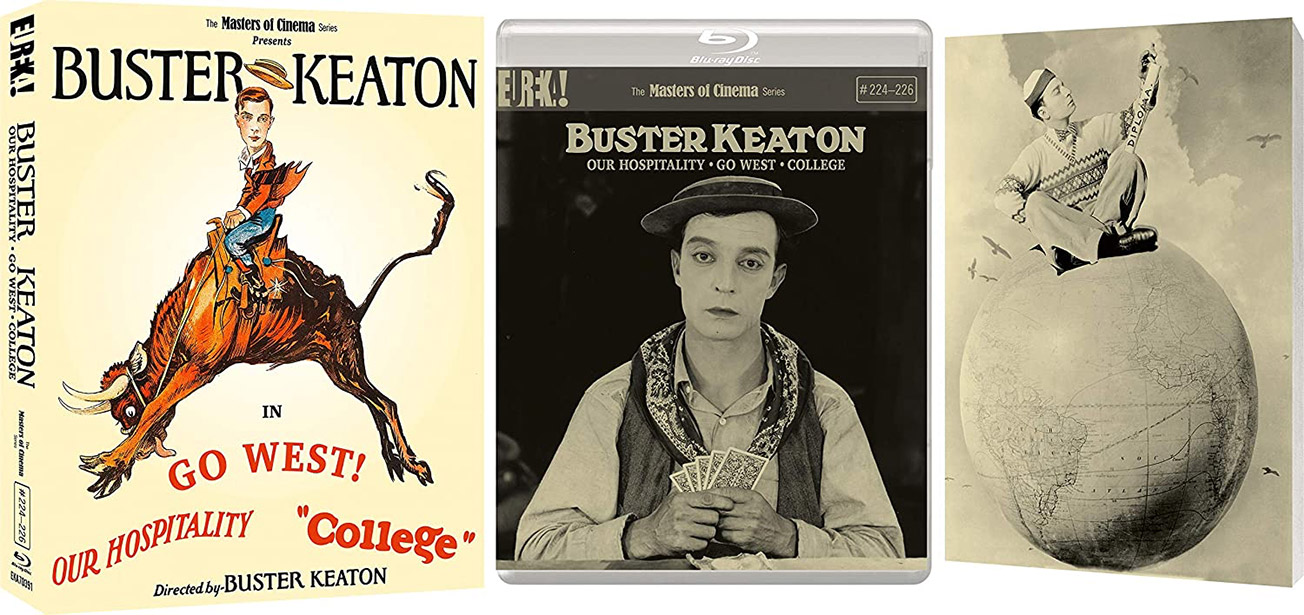 BUSTER KEATON: OUR HOSPITALITY / GO WEST / COLLEGE (USA 1923-1927) | Limited Edition Blu-ray box set | 24 August 2020 | £29.99
The Masters of Cinema Series presents three more films directed by and starring Buster Keaton from brand new restorations.
Our Hospitality (1923)
Often cited as one of his most significant films – as well as one of his funniest – 1923's Our Hospitality, which Keaton co-directed with John G. Blystone, is his take on the notorious feud between the Hatfield and McCoy clans (here renamed the Canfields and the McKays). Keaton is luckless William McKay, who must journey down South to view his lacklustre inheritance, only to be seduced along the way by one of the Canfields, Virginia, who lures him to her family's house so that the men of the clan can shoot him down. But William knows that the Canfield men won't kill him as long as he's in their house, so he endeavours to stay put there, against all obstacles. With its attention to 19th-century period detail and emphasis on integrating the gags into the storyline, Our Hospitality was not just a breakthrough in Keaton's career, but it was also noted even during its release as an advancement in the medium, with Variety proclaiming, "It marks a step forward in the production of picture comedies." From a 2K restoration.
Go West (1925)
Keaton is at his most stone-faced as the memorably named "Friendless" in Go West, an irresistible blend of deadpan darkness and spectacular comic set-pieces. Friendless abandons city life to ride the rails to an Arizona ranch, where his ineptitude at almost everything only makes his nickname even more accurate. But when his one beloved companion, a cow named Brown Eyes, seems to be headed to a slaughterhouse fate, Friendless intervenes, and the resulting cattle stampede through the streets of Los Angeles is one of Keaton's most understandably famous and acclaimed sequences. From a 4K restoration.
College (1927)
Keaton follows up The General with a higher education comedy that seems to take a cue from Harold Lloyd's The Freshman (1925). Keaton is bookworm Ronald, whose high school girl Mary ditches him for someone with the athletic prowess that Ronald lacks. Determined to win her back, Ronald enters college with an eye on sports, but two left feet. From a 2K restoration.
Blu-ray box set features:
Limited Edition Hardbound Slipcase [3000 copies]
1080p presentation on Blu-ray from new restorations undertaken by The Cohen Film Collection
Our Hospitality – new audio commentary by silent film historian Rob Farr
Our Hospitality – alternate shorter cut of the film [55 mins], with optional commentary by film historian Polly Rose 
Go West – A new video essay by John Bengtson (Silent Echoes / Silent Traces / Silent Visions) on Go West's filming locations
A new video essay by David Cairns
The Railrodder – the 1965 short film starring Buster Keaton in one of his final film roles
Optional audio commentary on The Railrodder with director Gerald Potterton and cameraman David DeVolpi
Buster Keaton Rides Again – the 1965 documentary about, and produced concurrently with, the filming of The Railrodder
Optional audio commentary on Buster Keaton Rides Again with director Gerald Potterton and cameraman David DeVolpi
MORE EXTRAS TO BE ANNOUNCED
A LIMITED EDITION 60-PAGE perfect bound collector's book featuring; a new essay by Philip Kemp; writing on all three films by Imogen Sara Smith; archival material on the filming locations used for Our Hospitality courtesy of John Bengtson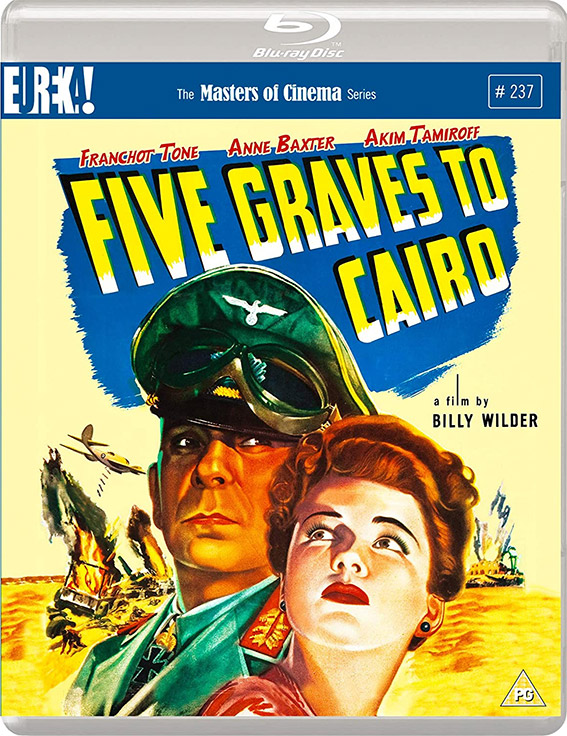 FIVE GRAVES TO CAIRO (USA 1943) | Blu-ray | 17 August 2020 | £14.99
Only the second Hollywood film directed by Billy Wilder, the riveting World War II spy thriller Five Graves to Cairo is an underrated early gem from the filmmaker, who would ascend to the industry's highest ranks with his next project, Double Indemnity. Five Graves demonstrates that Wilder and screenwriter Charles Brackett – who would collaborate on thirteen films, winning screenplay Oscars for The Lost Weekend and Sunset Boulevard – were already working at the peak of their powers, delivering an espionage yarn that never lets up on the suspense.
The only survivor in his unit after a battle with Rommel's soldiers in North Africa, British Corporal Bramble (Franchot Tone) staggers through the desert until arriving at the largely deserted Empress of Britain hotel, staffed only by owner Farid (Akim Tamiroff) and his French employee Mouche (Anne Baxter). While Bramble hopes to hide there, the hotel doesn't remain deserted for long – Rommel (a scene-stealing Erich von Stroheim) and his men arrive and take over the building as new headquarters. Bramble assumes the identity of a recently killed waiter…only to soon discover that this waiter was also serving as a German spy, a role Bramble now has to adopt for his own survival. And while Mouche knows Bramble's true identity, she has her own reasons for not wanting to aid in his plot.
Named by Quentin Tarantino as one of his favourite films, Five Graves to Cairo is filled with duplicity and danger at every turn. Wilder ratchets up the tension surrounding a disparate group of characters trapped together in wartime, with each hiding their own secrets and their own schemes. The director would soon become one of Hollywood's most lauded talents, but his genius was clearly evident in this early work.
Blu-ray features:
1080p presentation on Blu-ray for the first time in the UK from a brand new 4K restoration
Uncompressed LPCM audio (original mono presentation)
Audio commentary by film scholar Adrian Martin
Billy Wilder on Five Graves to Cairo
"Five Graves to Cairo" episode of Lux Radio Theatre, originally aired in 1943, starring Franchot Tone and Anne Baxter
Theatrical trailer
A collector's booklet featuring new writing by critic Richard Combs; and an archival article from 1944 about Wilder and Charles Brackett