Studiocanal has announced two new British titles to be released on DVD, Blu-ray and Digital as part of its Vintage Classics collection in August, the 1951 comedy The Galloping Major, and the 1957 crime thriller The Flying Scot.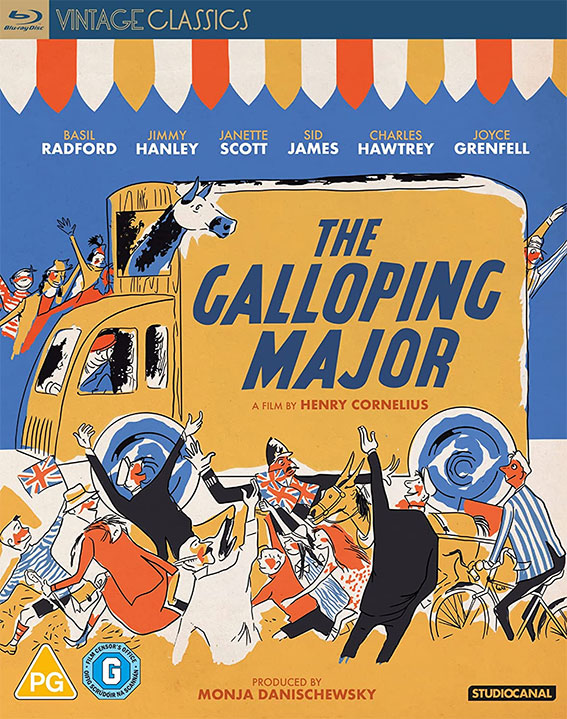 THE GALLOPING MAJOR (1951) | DVD, Blu-ray & Digital) | 8 August 2022
Directed by Henry Cornelius (I Am a Camera, Passport to Pimlico) and based on an idea by Basil Radford (The Captive Heart, Whisky Galore!), The Galloping Major is part of the Romulus Film Catalogue and features a stella cast of the era including Basil Radford, Jimmy Hanley (The Blue Lamp, The Captive Heart), Hugh Griffith (Oliver!, Kind Hearts and Coronets), Janette Scott (School for Scoundrels, As Long as They're Happy), A.E. Matthews (Laughter in Paradise, Whisky Galore!) and Charles Victor (The Ringer, Major Barbara).
After a successful day at the races, Major Arthur Hill (Basil Radford) and Harold Temple (Hugh Griffith) decide to raise a £300 syndicate to buy a certain racehorse. With excited help from their friends (Janette Scott, Jimmy Hanley, Rene Ray, Joyce Grenfell, A. E. Matthews) they get the money, but things don't go so smoothly from here. First, they accidently buy the wrong horse which proves to have more of an affinity for jumping than racing. They then decide to train it themselves as a jumper under the new name "The Galloping Major". However, on the night before the Grand National, the horse mysteriously disappears...
DVD & BLU-RAY SPECIAL FEATURES:
NEW Locations featurette with Historian Richard Dacre
NEW Betting On Success - Matthew Sweet On The Galloping Major
Stills Gallery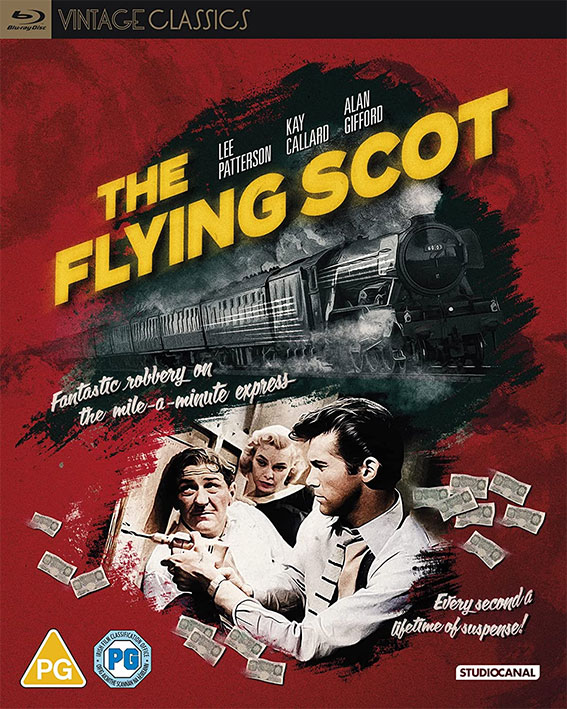 THE FLYING SCOT (1957) | DVD, Blu-ray & Digital) | 8 August 2022
This compact, claustrophobic British B-movie gem directed by Compton Bennett (The Seventh Veil, Man-Eater) and written by Norman Hudis (writer of six of the Carry On films) and Ralph Smart (Convict 99, Where No Vultures Fly), features three very different career criminals, who join forces for a daring robbery attempt aboard the famous London-Glasgow passenger train The Flying Scotsman. Lee Patterson (Airplane 2, Checkpoint) is the man with the audacious plan and Kay Callard (White Hunter, The Electric Monster) his glamorous accomplice in this taut heist thriller with echoes of film noir, which also stars Alan Gifford (2001: A Space Odyssey, The Iron Petticoat) and Margaret Withers (Esther Waters, That Dangerous Age).
Dissatisfied with the small profits gained by his petty crimes, Ronnie Cowan (Patterson) attempts to pull off the most sensational train robbery of all time. After learning that the Bank of Scotland periodically sends half a million pounds in notes from Glasgow to London for destruction aboard The Flying Scotsman, he assembles a trusted transatlantic team and a seemingly fool proof scheme is put into action.
DVD & BLU-RAY SPECIAL FEATURES:
NEW Interview with Steve Chibnall, Professor of British Cinema - The Flying Scot and the history of the British B-movie
NEW Interview with writer & journalist Barry Forshaw
Alternate Opening Sequence
Stills Gallery